A Life of Real Estate
My career as a Realtor seemed to start before I became one. I grew up in a real estate family.  My father started buying homes in the early 1960's, using funds from his schoolteacher's salary and a laundromat he owned with a friend.  Eventually he would own nearly 30 Bay Area rental homes before developing commercial buildings.  From the late 1960's to the early 1980's he shared his real estate insight with me.  From Realtors to real estate financing, to buying and selling homes, I was fortunate to get the inside scoop from a very active real estate investor. In exchange, he got cheap labor for his rentals. It was my uncle who gave me insight as a Realtor.
My uncle was with Coldwell Banker. He had an easy going personality, never pressuring people to buy or sell, almost the opposite of how Realtors were taught during that time. But he was successful as people seemed to appreciate his sincere, easy going style.  He rose up the ranks as one of the top Realtors in San Jose and was eventually promoted to one of Coldwell Banker's top management spots in the country.  In my early years as a Realtor, his wisdom was invaluable. Now retired, he and I still talk about real estate to this day.
1985  Two years out of college, this was the year I jumped into real estate with both feet.  It was a chance opportunity that got things going.  A family friend who was having no luck selling his rundown rental home, with problem tenants, approached me with a proposal.  He offered to help with the financing if I took the fixer upper off his hands.  I said "yes" on the spot, before draining my savings and selling my car.
I then moved into a terrible looking, flat top house, to the surprise of the tenants. And after they eventually moved out, I offered a room to a contractor in exchange for remodeling services. Over the next year I cleaned, painted and spruced up the landscaping. It still wasn't a Taj Mahal, but I sold it, paid off the financing, and put $50,000 of profits toward two more homes. One to live in and another to fix up.
I continued to do fixer upper projects for several years, and got my real estate license along the way. I then started getting requests from friends to help them buy real estate. So, I did that too, and really liked it.
Soon, I joined a small brokerage as a part time Realtor, but continued to buy, sell and remodel fixer uppers.
1988  This was the year I became a full time Realtor. I joined the largest firm in California and was the youngest among 55 agents in our local office. Three years later I  was recognized as one of the company's top 3% agents. This was a thrill, being included with veteran agents I admired.
This was also the year I did my first major remodel, converting an 1,100 square foot home into a 2,700 square foot home with a 3 car garage. I eventually built more homes including a subdivision of eight parcels. Property variances, easements and zone modifications were tasks I also took on. Some for me and some for clients.
1995  I became a real estate broker and started a new real estate brokerage. The experience of owning and operating a real estate brokerage was invaluable. Since then, I have taught and managed real estate agents, while representing clients as a full time Realtor.
1998  I never had the desire to be the agent that sold the most homes, but in 1998 it happened. I sold 114 homes that year, tops in the Bay Area per the San Francisco Business Times. But I will never do it again. Looking back, I don't see how that can be in the best interest of my clients. At one point that year I had over 90 homes for sale at the same time.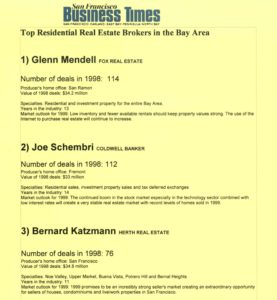 A year later, the Associated Press gave me credit for doing the first online real estate transactions. The national exposure resulted in calls from agents and real estate brokerages from around the country.
I eventually set up an online real estate brokerage and had agent affiliates in all 50 states. I actually received income on home sales as far east as Virginia and had agents from Maine to Alaska. But this took me away from my local clients, so I backed off from the venture.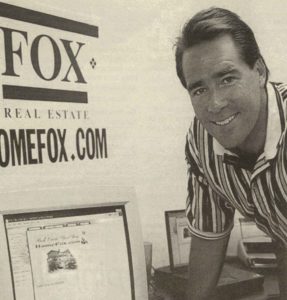 I did some spots on Channel 2's Morning Show, which were live and kind of nerve racking. But I did them and enjoyed talking about real estate and the trends of the time.
2005  Ten years after opening my real estate brokerage, I had four offices, 60 agents and a mortgage company. But once again I found myself engaged in things that took me away from my clients. So, I started to scale back the company. And by 2009, I had reduced the agents in half and was offering incentives if they worked from home offices.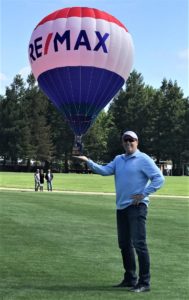 2019  After more than two decades owning and operating a real estate brokerage, I joined Remax Accord. I stepped away from the day to day operation to become a Realtor, without the interruptions I would get as the broker and owner.
Other than that, I'm a Bay Area native, born in San Francisco, graduated from Bellarmine High School in San Jose, undergraduate at Saint Mary's College and continuing education at Stanford. I live in Danville with my wife of 35 years and am fortunate to live just a few miles from my daughter, her husband and my first grandchild.
As far as hobbies, I play handball, pickle ball and tennis, enjoy photography, making videos and have written two books (on real estate of course).
Experience & Work Ethic
Realtor since 1988
Real Estate Broker since 1994
Real Estate Brokerage Owner since 1995
Property Management Company Owner
Former Mortgage Company Owner
Former Real Estate Developer
2nd Generation Real Estate Specialist – (Father and Uncle)
Over 1,000 Home Sales
San Francisco Business Times Top Realtor List (Multiple Times)
Real Estate Investor, Owner of Multiple Income Properties
Over 25 Remodels, Builder of Six Spec Homes, One Subdivision
Will Communicate on a Regular Basis
Patient, Never Pressuring Clients
Easy to Reach and Responds Right Away
First-Time Home Buyer's Assistance
Versed in Remodels, Home Efficiency